Home to the Next Visit Patient-to-Advocate Transformation
Give yourself the education you need to thrive in todays medical landscape.
The Patient Better Academy is an educational program dedicated to helping people navigate through the US healthcare system more efficiently and effectively.
How do you rate your health proficiency skills? Take The Health Proficiency Challenge and find out where you stand.
Who is the Patient Better Academy for?
The Patient Better Academy is for people who need a program to help them learn how to oversee their medical care, quickly. Patient Better works best for patients (and caregivers) with common to complex, mild to advanced, psychological and physical conditions that need better healthcare governing skills.
"The Patient Better Academy is an excellent life-skill to learn how to keep healthcare organized, prepared, and ready for whatever your life brings you."
"Since applying Patient Better into my healthcare routine, my doctor has seen that I have become very proactive in my healthcare."
"Since completing the Patient Better Academy, my at-home care team and I have been able to work through my complex diagnosis more easily."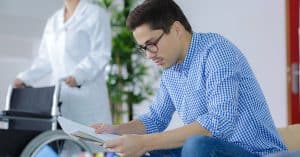 Add Your Heading Text Here Lorem ipsum dolor sit amet, consectetur adipiscing elit. Ut elit tellus, luctus nec ullamcorper mattis,
Read More »