Brilliant New Ways to Self-Manage Care in 2023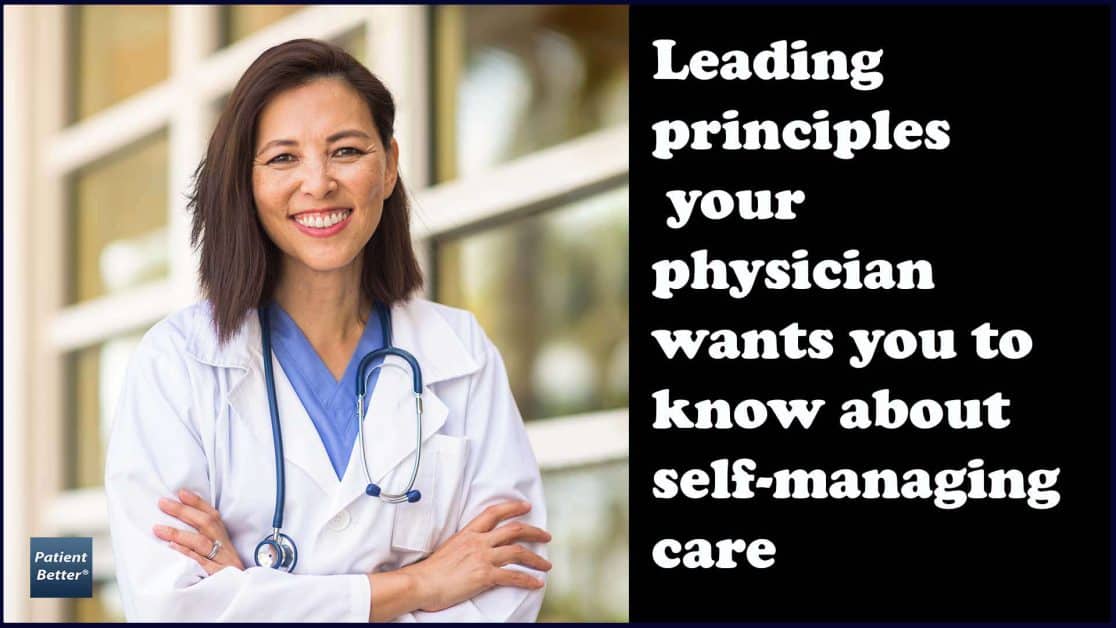 If you're looking to improve your health management skills, like so many of us today, you may realize that there are many parts and players that make up the pieces of this "self-managed care" puzzle. After going through the pandemic, realizing what we are doing to be more self-reliant in managing care is simply not enough. Today, it's essential to learn self-management through and through building a foundation of self-management care knowledge, as well as executing your newly developed skills for healthcare professionals.
In this article, we'll unpack the term self-managed care and uncover how a health management program can help you self-manage your care in our new post-pandemic era. After reading, you'll have the right direction for approaching the next step to self-managing your care. The first step in sorting the puzzle of self-managing care is to understand what the term means and truly practice it.
Unpacking Self-Care and Self-Managing Care
So what exactly does it mean to self-manage care? Well, in short, self-managing care has various meanings for different people. And since we couldn't find a fixed definition of self-managing care, we broke up the words and produced our own meaning. You're probably familiar with these terms and could confidently use them in a sentence but haven't performed an in-depth examination of what it means to self-manage care. We compared self-care and self-management, which is the first step you'll take to build a solid foundation of your health management program.
Self-management
According to the Merriam-Webster Dictionary, self-management is a broad term that describes management by oneself or one's affairs.
Self-care
However, when it comes to self-care, several definitions have been produced by authorities throughout time. For example, the World Health Organization composed a definition and then updated the wording to meet current standards in 1983, 1998, and then in 2009. The Centers for Disease Control, National Health Institute, National Library of Medicine, and International Self-Care Foundation have unique definitions of what self-care means to them as well.
"Self-Care is what people do for themselves to establish and maintain health, and to prevent and deal with illness. It is a broad concept encompassing hygiene (general and personal), nutrition (type and quality of food eaten), lifestyle (sporting activities, leisure, etc.), environmental factors (living conditions, social habits, etc.), socio-economic factors (income level, cultural beliefs, etc.), and self-medication." WHO, 1998
The International Self-Care Foundation also created a version and the illustration in the picture below.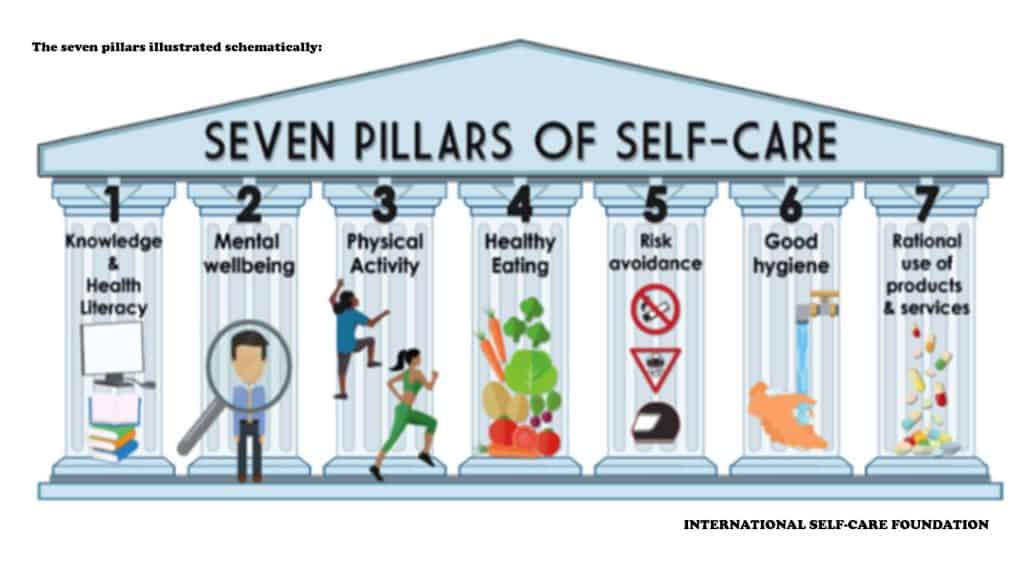 By examining this picture, we can determine that self-care is the parent to the seven components or pillars of self-care, the first being knowledge and health literacy. Health knowledge is not only the first pillar, but it can also be the framework that strengthens each component. Based on the figure, we can also conclude that the seven pillars of self-care ideas are separate but may rely on one another to optimally support the concept. Finalizing the idea, one pillar cannot support the building on its own, and each of the pillars of self-care needs others to function.
Health Management Knowledge Equals Health Literacy
The US Department of Health and Human Services defines health literacy as "the degree to which individuals have the capacity to obtain, process, and understand basic health information needed to make appropriate health decisions." According to the World Health Organization, the lack of health literacy causes poorer health and has been shown to result in less healthy choices, riskier behavior, less self-care management, poorer overall health, and more frequent hospitalizations. Furthermore, a lack of health literacy significantly drains financial resources within the healthcare industry.
To offset the issues resulting in a lack of health literacy, the Patient Better program focuses on teaching everyday people how to manage care through meaningful learning, a concept where previously learned information is applied and connected to new information. Because our "students" hail from such diverse backgrounds, we begin our training at the grassroots of the healthcare industry and focus on developing the administrative skills required for everyday people to learn how to properly self-manage their care.
What Your Physician Wants You to Know
Here's why your doctor wants you to learn about a health management program to self-manage your care.
Self-managing care keeps you healthier longer.
Advancements in healthcare have resulted in more people living with multiple common and complex conditions for longer periods. With these improvements, the need for people to self-manage their condition is now a critical driver for maintaining independence and quality of life for an extended time.
Self-managing your care improves your professional relationships.
Today, the managing care paradigm has shifted from the physician to the office staff's shoulders to the patients. Clinicians now rely on patients to play a key role by assisting their provider as an equal partner in care (EPIC). Patients used to rely on the practice's staff to complete several administrative tasks; however, the pandemic has shifted those responsibilities back onto the patient's shoulders. Essentially, the need for patients and caregivers to independently manage care has never been so demanding.
Self-managing care is a promising strategy.
For various reasons, the electronic medical record constrained the provider−patient interaction in the treatment room; however, the virus crushed face-to-face communication. Today, health professionals' need to incorporate their patient and their family-member caregivers and ramp up their participation (and capability) to render care outside the medical practice is more needed than ever.
A Word about Self-Managing Care Education
We designed our program's tutorials, lesson applications, presentations, and workbooks in tiers, depending on the complexity of your condition, so that you (or your at-home caregiving team) can further analyze and learn how to self-manage care more easily. Being able to collect, compile, and organize your documents properly is your key to better communication. Everything that you'll learn about self-management is portrayed in your ability to record care.
Final Thoughts
It's crucial that patients and their families position themselves as active members in self-managing care as a team. They must always remain on top of their medical record and health story.
Patient Better is a quality health management program that does not focus on just one diagnosis. Rather, it's a far-sighted health management program that acts as the umbrella for all illnesses, diseases, and diagnoses that one can essentially utilize throughout life. Patient Better's quality health management program guides all people to learn the administrative duties that today coexist with common to complex medical conditions.
About Patient Better
Patient Better is a 501(c)(3) nonprofit organization developed to help offset some of the new challenges facing patients and their family-member caregivers in navigating throughout the healthcare industry. Our mission is to provide affordable health management knowledge and equip people with unique, lifelong skills to independently manage care efficiently and effectively.
If you want to learn more about how you can become an expert health advocate (for in-person and virtual medical appointments) visit patientbetter.com.
Video coming soon
Interested in watching our upcoming video? Be the first to get notified when it comes out. Subscribe to our newsletter.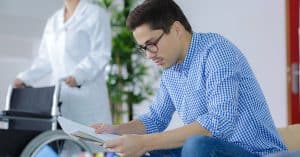 Add Your Heading Text Here Lorem ipsum dolor sit amet, consectetur adipiscing elit. Ut elit tellus, luctus nec ullamcorper mattis,
Read More »