Contact Us Today to Unlock a Better Healthcare Journey
Contact us – When Molly found out her mother was diagnosed with a complex medical condition, she was overwhelmed with information, medical jargon, and a plethora of treatment options. She needed guidance but didn't know where to turn. It wasn't until she stumbled upon Patient Better LLC that she learned how to navigate the healthcare system more efficiently for her mother. The program changed her life, and it all started with a simple contact—reaching out to us through our online form. Contacting Patient Better can be the first step to take control of your healthcare journey. This article aims to guide you through various reasons and methods to get in touch with us.
Why Contact is Crucial
In the rapidly evolving landscape of healthcare, staying informed is more important than ever. When you contact us, you're taking an active step toward better understanding and managing your healthcare or that of a loved one. Whether it's by filling out the form below, emailing us, or using our chatbot, each mode of contact is designed to assist you in the most efficient way possible.
Contact Through the Form Below
Filling out the contact form on our website is one of the easiest ways to get in touch with us. It's particularly useful for non-urgent inquiries and allows you to provide all the necessary details we may need to assist you. Whether you have questions about our proprietary medical aid tool or wish to learn more about our educational software, the contact form is a convenient way to reach out to our team.
Email Us for Personalized Support
If you're someone who prefers the classic approach of communication, you can email us at [email protected]. Emails allow for a more detailed discussion and give us the opportunity to provide a comprehensive response to your queries. Whether it's questions about the program, the services we offer, or just general inquiries, your emails will be addressed by our team of experts who are well-equipped to provide the information you need.
Use the Chatbot for Quick Assistance
For immediate help or quick questions, our chatbot is available 24/7 to guide you through the basics of what Patient Better has to offer. The chatbot can answer general questions, guide you through our website, and even help you set up an appointment for a more in-depth consultation.
Inquiries for Health Education and Home Care
Our program is built to assist you with a range of healthcare needs. If you're interested in our health advocacy educational program or have questions about our novel goods and services surrounding home care education, don't hesitate to contact us. Your healthcare journey can be complex, but we're here to make it simpler and more efficient.
Business-to-Business Contact
If you're a healthcare provider or a business interested in partnering with us, contact is essential for collaborative success. Our program has numerous facets that can be beneficial for various aspects of the healthcare industry. Your contact could be the beginning of a partnership that enhances the healthcare experiences for countless individuals.
Conclusion
Contacting Patient Better LLC can be a life-changing decision, much like it was for Molly and her mother. The ways to reach out to us are varied to suit your comfort and needs. Whether you're filling out the online form, sending us an email, or using our chatbot for quick answers, each method is aimed at helping you navigate your healthcare journey effectively and efficiently. Take that crucial first step. Contact us today.
How Patient Better Revolutionizes Healthcare with Health Advocacy
Patient Better is a groundbreaking, all-in-one solution that empowers individuals to become recognized health advocates. With our comprehensive Health Advocacy Program, we provide aspiring advocates with the knowledge, skills, and resources needed to navigate the complexities of the healthcare system effectively. This unique program covers a wide range of topics, from understanding medical concepts, processes, and financial intricacies, to learning effective communication skills, patient advocacy techniques, and the importance of holistic wellness. Participants will emerge with a comprehensive skill set that enables them to navigate the healthcare landscape with confidence and positively impact their lives.
By enrolling in the Patient Better Health Advocacy Program, participants gain access to expert-led training sessions, interactive workshops, and real-world case studies. The curriculum is thoughtfully designed to equip advocates with practical tools to support patients and their families during challenging medical situations. As advocates, they learn to bridge the communication gap between healthcare providers and patients, ensuring that medical decisions are well-informed and aligned with the patient's best interests.
Consider purchasing the Patient Better Health Advocacy Program if:
You or your family are facing challenges in communicating, coordinating, or collaborating on your healthcare efficiently and effectively.

You or your family have received a medical diagnosis and seek to minimize errors, oversights, and uninformed decisions.

You or your family are looking for a cost-effective solution to navigate and understand your health journey.
With the Patient Better Health Advocacy Program, you'll gain the support and expertise needed to navigate the complexities of the healthcare system, empowering you to make informed decisions and improve your overall healthcare experience.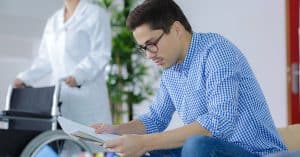 Add Your Heading Text Here Lorem ipsum dolor sit amet, consectetur adipiscing elit. Ut elit tellus, luctus nec ullamcorper mattis,
Read More »