Patient Better's Health Management Resource
Innovative ways for people to take governing care to the next level.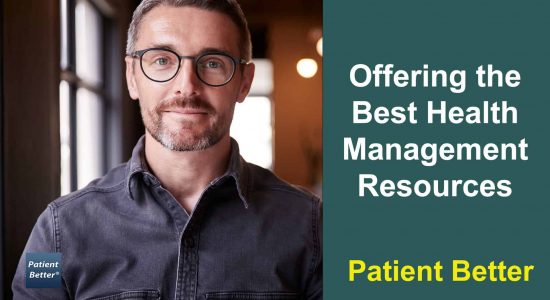 Patient Better is the leader in health management education. Our training is uniquely designed for people who want to learn how to govern care. We are an organization created to help people get through their health journey more easily. Patient Better supplies people with affordable knowledge for those who have been recently acquired a condition or had a loved one who has been diagnosed navigate the healthcare system more efficiently and effectively. 
Why does Patient Better's health management program exist?
Research shows that at least 80 million Americans unwittingly suffer from healthcare illiteracy. The astounding consequence of this silent epidemic wreaks havoc on our already strained healthcare system and its ripple effect has an even more profound impact on fellow patients, families, and essentially every care deliverer and recipient involved.
Patient Better recognized and solved this massive pain point by developing a critical public healthcare literacy intervention program.  This program truly moves the needle on improving people's lives by supplying a much-needed life skill to learn how to become proficient in healthcare. Indeed, by properly executing a health literacy program in our society we could play a significant role in bettering individuals' as well as care team's ability to self-manage care. Additionally, through our extensive health literacy examination, we realized that improving patient proficiency not only improves livelihoods but also reduces health costs and advances medical professionals' ability to deliver care.
We're here to help you earn the essential health management skills.
We specialize in and are a resource in helping consumers, care teams, and caregivers learn how to collaborate and participate as an at-home care team, enhance communication with health professionals, and organize a personal medical management tool.
Our program teaches everyday people through meaningful learning, which is a concept where previously learned information is applied and connected to new information. Because our students come from such diverse backgrounds, we begin our training at the grassroots of this industry by defining healthcare administration principles.
Definition of health literacy: Health literacy is the degree to which individuals have the capacity to obtain, process, and understand basic health information needed to make appropriate health decisions.
Identifying a health literacy program: A health literacy program is an educational tool for people to learn how to self-manage care.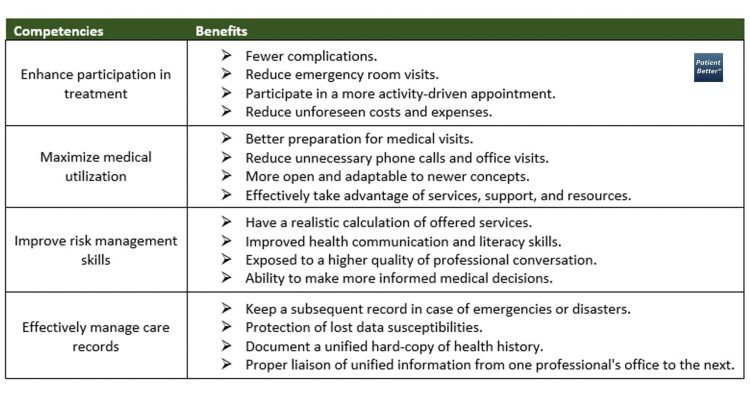 Creative ways to keep in touch...
The Patient Better Academy offers a full classroom experience with supporting course work. This online learning center includes 8th grade level tutorials, videos, presentations, and quizzes which enable people to become proficient within the current healthcare arena.
Patient Better: A Comprehensive Guide to Self-Health Management is an instructional piece written for people to understand today's technology-based healthcare world. According to the experts it takes 2.37 hours to read it to it's entirety and an essential guide for patients in need of a management tool to enhance their ability to navigate throughout the healthcare industry.
Patient "soft spots" addressed:
Proficiency in medical record management.

Access and consistently use medical portals.

Reduce unforeseen medical costs.

Reduce emergency room visits.

Lessen unnecessary phone calls and office visits.

Have fewer complications.

Safeguard information from oversights and data protection loss in case of public emergencies or disasters.

And so much more…
Workbook
The Patient Better Workbook:  Self Manage Your Way to Better Care is a collection of our most popular worksheets, which assist lay persons in developing their analytical skills within the world of medicine and develop additional abilities to perform higher-level administrative tasks that are part of personal healthcare management. Today, individuals with complex medical conditions (and the folks who care for them) are often required to perform sophisticated in-home medical care. With that being said, it's more critical than ever that these tasks are properly recorded. Patient Better assists patients and their caregivers, parents, and guardians in keeping a good document trail and collaborating in care through user-friendly communication tools.
* Informal caregivers are the friends, family, and others in the patient's social circle who have no formal training and are not compensated for assisting with care
* Meaningful Learning (ML): Refers to the concept that previously learned knowledge is fully understood by the individual and that the individual knows how that specific information relates to other stored data and is applied to the newly learned material. For understanding this concept, it is good to contrast meaningful learning with the much less desirable, rote learning.