Empowering Health Professionals with Patient Better's Health Advocacy Solutions
Streamline Care, Enhance Efficiency, and Put Patients First.
The Patient Better Advantage
Patient Better is a pioneering educational program designed to elevate patient care by actively involving patients and their families in the healthcare process. By empowering patients to become effective collaborators, Patient Better alleviates the administrative and educational burdens commonly faced by healthcare providers. Our home-based educational model requires minimal time investment from medical professionals, enabling clinicians to focus more on delivering quality care. Patient Better serves as an indispensable tool for healthcare providers, enhancing treatment effectiveness through improved patient collaboration, communication, and care coordination.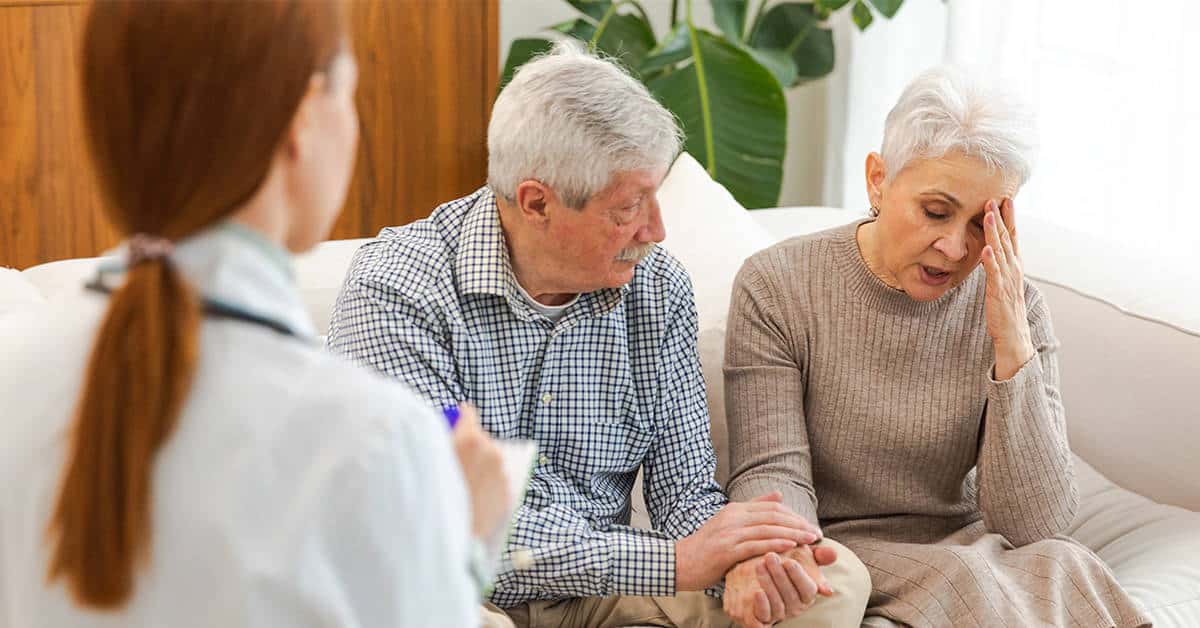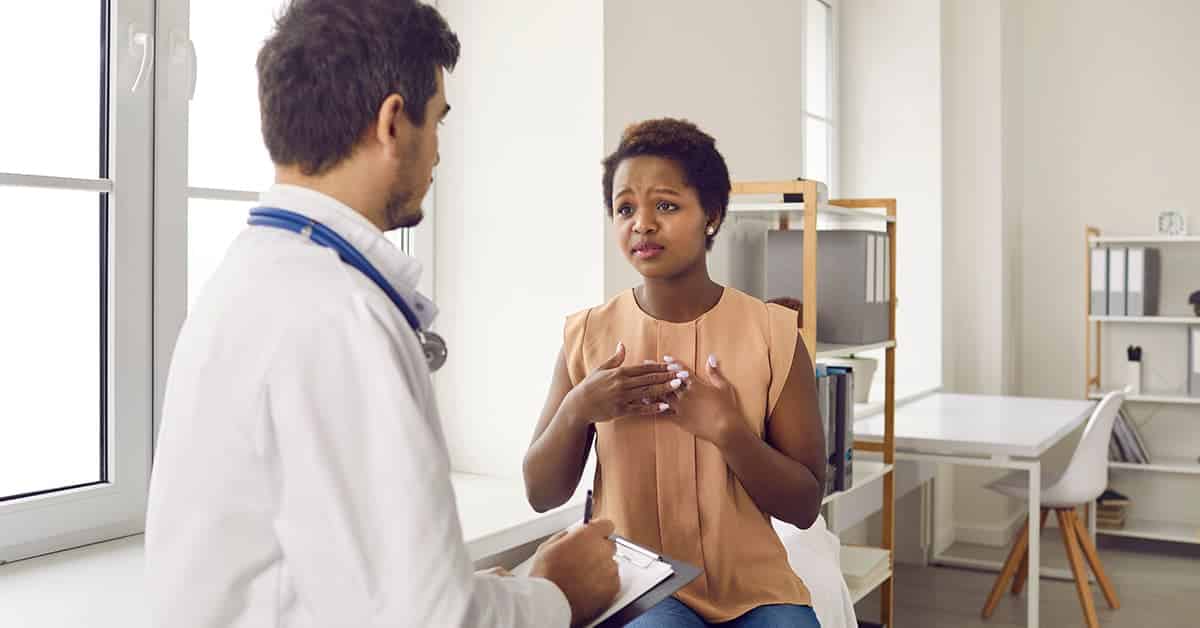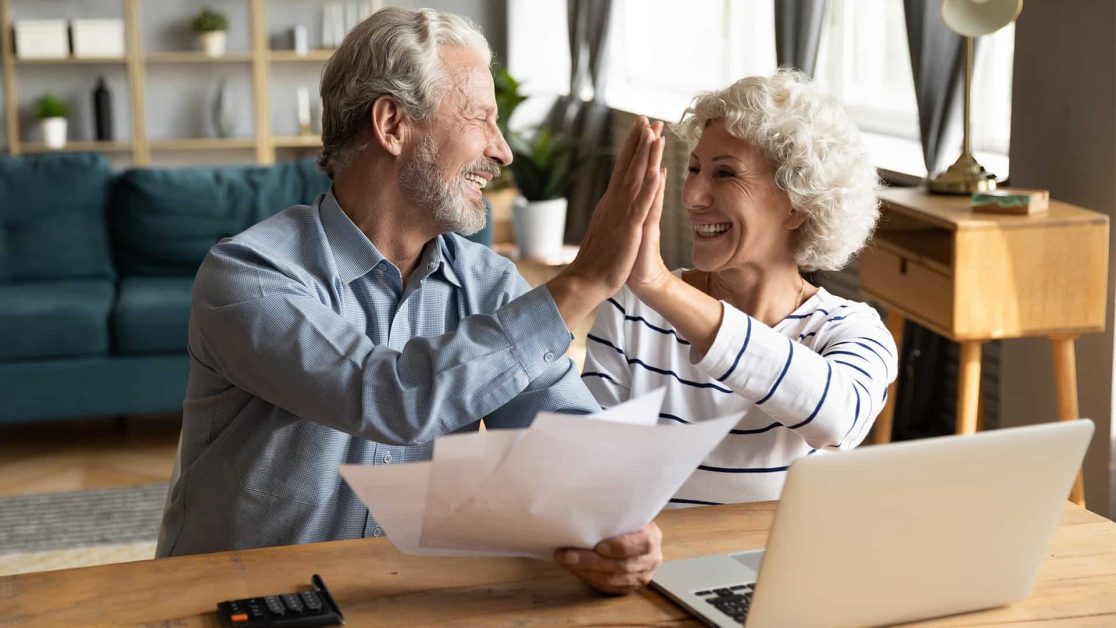 At Patient Better, we are the solution to the healthcare illiteracy problem. With just 23 micro-courses, we transform patient care into an empowering experience. Here's how:
Active Participation: Our courses enable patients to actively participate in their treatment, reducing complications, emergency room visits, and unforeseen costs.

Proper Utilization: Patients gain an understanding of proper medical utilization, reducing unnecessary appointments and maximizing healthcare services and resources.

Risk Management: We equip patients with risk management skills, helping them make informed healthcare decisions and plan for proper treatment.

Efficient Record Management: Patients learn to efficiently manage care records, becoming effective liaisons in transferring information between healthcare providers.
At Patient Better, we simplify the solution to healthcare illiteracy, turning patients into informed health advocates for their own care
How to measure your patient's literacy level.
The Health Proficiency Challenge is a vital assessment tool designed to help you gauge the health literacy levels of your patients. This brief and user-friendly assessment seamlessly integrates into patient intake forms, ensuring that from the very first interaction after diagnosis, healthcare providers gain valuable insights into their patients' health literacy. By including this assessment, you can tailor your communication, educational materials, and care plans to meet each patient's unique needs. This proactive approach enhances patient understanding, engagement, and overall care quality, ultimately leading to better health outcomes.
FAQs: Get to know Patient Better
Health advocacy is the active support and navigation of healthcare services to make informed decisions. It encompasses understanding healthcare terms, managing medications, and effectively communicating with healthcare providers.
Health literacy empowers you to understand the medical landscape, make informed decisions, and avoid unnecessary costs or medical errors. It's key to becoming an active participant in your healthcare journey.
Patient Better offers a comprehensive program and proprietary tools to simplify home healthcare management. We guide you through understanding medical terminologies, tracking treatments, and efficiently liaising with healthcare providers.
Unlocking Knowledge: A Side Effect-Free Journey to Learning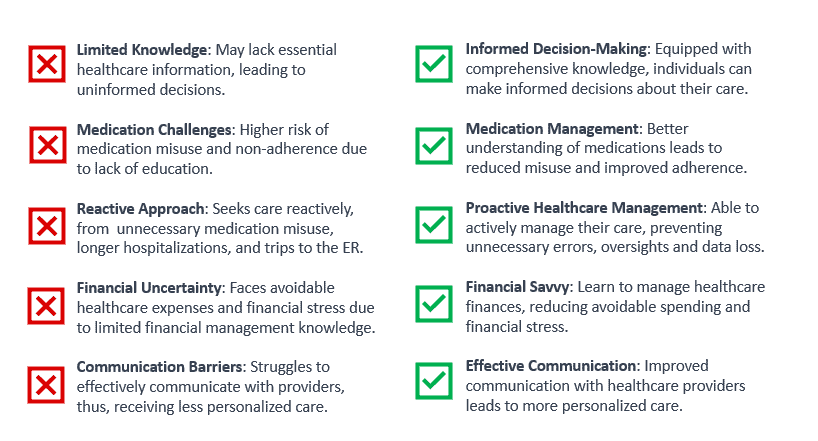 "Patient Better has been instrumental in helping me navigate through the healthcare system throughout my recent diagnosis."
"Patient Better has helped my family come together as a team, right from the start of mom's Alzheimer's diagnosis."
"I started learning the Patient Better program during COVID as a measure to take care of my condition more thoroughly while having to stay away from the clinic."
"I was introduced to Patient Better by my physician. Since then, I have not had one unnecessary office visit or phone call."
"My doctor recommended Patient Better when I told her I was moving out of state. Patient Better showed me how to transfer my medical record to my new care team with ease and get them up to speed quickly."
"Ever since my doctor prescribed Patient Better I've been keeping better records of my daily blood pressure and sugar readings, and it helps me stay on top of good numbers."
"I like the way the Patient Better program helps me get ready for my next visit with my doctor I am ready to discuss my daily blood sugar and blood pressure and it helps me to remember to ask important questions about medication prescribed."
"I like how Patient Better's Academy touches on so many points about the health system including showing me how to identify unnecessary or duplicate charges on my statement and how to dispute a charge if needed."
"Since applying Patient Better into my healthcare routine, my doctor has seen that I have become very proactive in my healthcare."
"As a patient and using the Patient Better program, I believe that if it wasn't for these instructions, my record keeping would be a total mess! Thank you for this program and I wouldn't know what to do without your system."

We offer you a hands-off approach in educating your patients, enabling your patients to learn how to participate at home and in between office visits, so you can concentrate on more critical matters during the appointment, such as patient care.
Ready to Take Control of Your Healthcare Journey?
Don't wait any longer. Join Patient Better today and start your journey toward empowered healthcare decision-making. Experience the benefits of health literacy and advocacy firsthand. Take the first step now!"
Join us for a heartfelt Caregiver Appreciation Event, where we acknowledge the dedication of those who give their all to care for others. Held at Kendra Scott and online, find the perfect expression of gratitude for your caregiver. This isn't just shopping; it's an opportunity to say 'thank you' in a way that truly resonates.
Read More »