Important
Video coming soon. To be the first to get notified, subscribe to our newsletter below.
Some of you may already be familiar with or have already participated in a telemedicine visit. However, if you haven't done so already or if you felt that you needed better guidance as to how to make the most of your appointment, this article was written for you. This article provides in-depth direction as to what you can do to be more productive, engaged, and feel more comfortable utilizing this amazing medical offering. Statistics show that if you participate in telemedicine services properly, you can reduce in-person office visits by 60%! Thus, telemedicine is proving to be a game-changer for those who just don't have the desire, the time, or the means to seek quality medical treatment.
After reading this article, you will have a boost of confidence in telemedicine knowledge, a better grasp of its capabilities, and have your first action plan as to what you can do to get the best care quality possible through telemedicine services.
First, let's clarify medical and health
In a previous article we pinpointed definitions (which is our way of connecting to new ideas quickly).
The word medical is used when relating to the practice of medicine. 2) Requires professional treatment at any specific point of care. 3) Pertains to the healing of disease, illness, or sickness.
The word health is used when referring to the status of a living being at any given time. 2) Soundness of the body or mind free from disease or abnormality. 3) A condition of optimal well-being.
Define telemedicine & telehealth services
Telemedicine and telehealth are two interchangeable words that often overlap (somewhat) in meaning and may be used out of context at times. I wanted to avoid any possible confusion and clarify how each word is used throughout this article as well as the entire Patient Better program.
Telemedicine refers to the long distance diagnosis and treatment of patients by professionals through means of telecommunications technology. This service allows the clinician to contact, treat, advise, remind, educate, and monitor remote patients. In short, telemedicine is associated with provider-patient communication.
Whereas telehealth is a word used to describe the distribution of  health-related education and instruction. Telehealth is typically used among health professionals to send and receive electronic information via telecommunication technologies.  Professionals may also use telehealth for further instruction or continued education through means of virtual technology. In short, telehealth is associated with professional-professional education and instruction.
Telemedicine Benefits
There are numerous meaningful benefits of telemedicine that will significantly improve one's capabilities to self-managing care.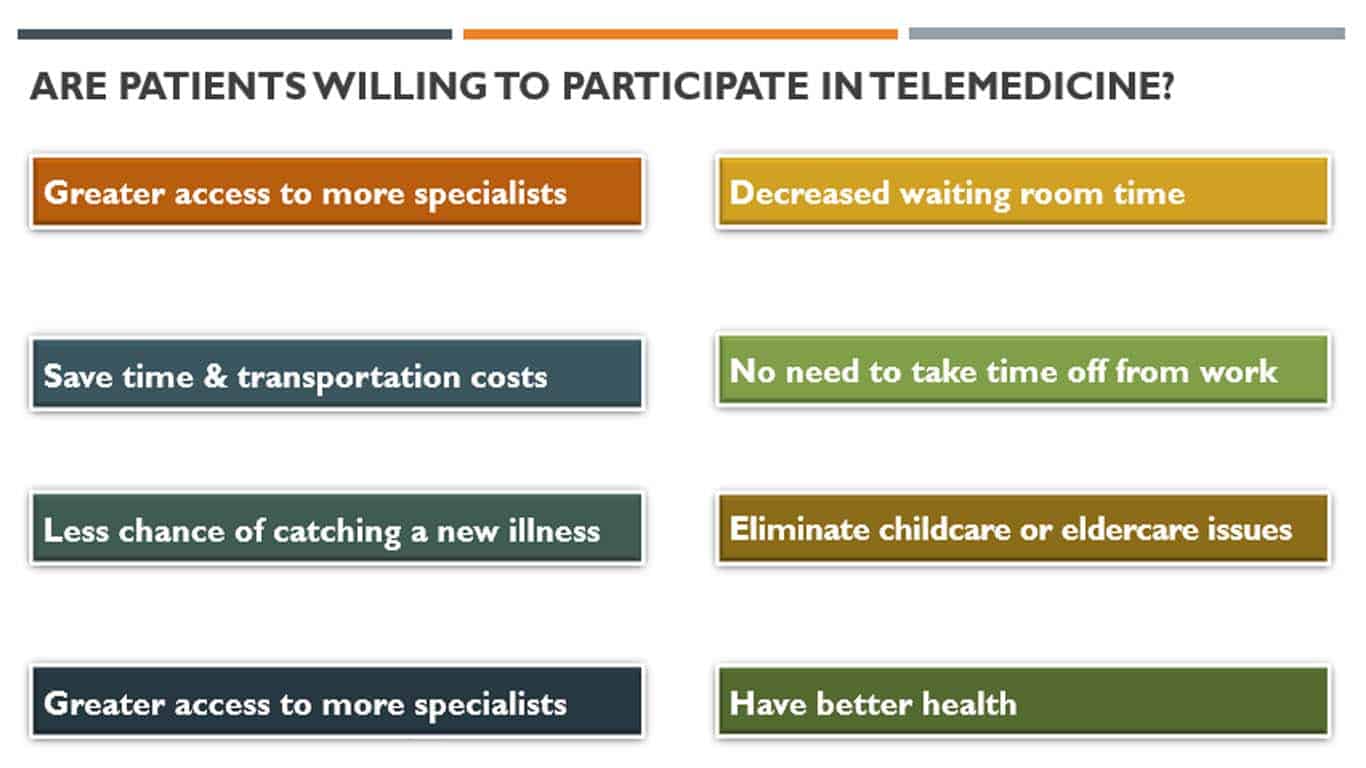 Myth #1: Telemedicine is just an on-demand service for people who have concerns about minor health events.
Truth: People might think that telemedicine is just for "easy to diagnose and treat" health issues. While telemedicine is commonly used to provide non-emergency services, the reality is that concierge telemedicine services (depending on the patient's preparation) can include a number of specialty services as well as follow-ups, post-ops, and long-term maintenance care appointments. Telemedicine is expanding its available of services every day. However, if patients want more comprehensive consultations and services, recipients must learn to self-manage care. (See article Create an Outstanding Virtual Home on a Shoestring Budget)
Myth #2: Only those with computer skills will do well in virtual visits.
Truth: Once you are comfortably self-managing care, the transformation from in-person to virtual medicine will become less confusing, and your primary provider will become your concierge physician. Your first video conferencing appointment may have hiccups. Proper preparation, video technology, and a secure and reliable internet connection is necessary. And rest assured, the other person on the phone (or computer) completely understands your predicament and is ready and skilled to help you along the way. You may want to bring your laptop, smartphone, or any other handheld device to your next in-person visit and ask a staff member to download or set-up their portal on the device.
Myth #3: Telemedicine does not protect private health information.
Truth: Two-way communicators such as Skype, Facetime, or Hangouts are safe and effective tools that are recognized [by regulators] as "compliant" to complete a reimbursable telemedicine appointment. Whereas public platforms such as Facebook, Instagram are not. Make sure that you are in a quiet location where you can openly discuss your health. The security algorithms for these apps are continuously being updated, and your information will be safe. (For more information about this topic, please read article How to Get a Free Virtual Health Assistant)
Myth #4: Virtual medicine is less expensive than an in-person medical office visit because it's less effective.
Truth: Telemedicine costs are reduced because the practice's operating expenses are reduced. Overhead costs may include: restocking inventory, equipment sterilization/cleaning supplies, staff training and regulatory compliance instruction. Operating costs such as electricity, staff, insurance, mortgage payments, and other costs associated with having a brick-and-mortar location are also reduced.
Myth #5 A physical exam is not necessary before a concierge telemedicine consultation.
Truth: In cases where your health condition initially presents as a skin rash, congestion, or a mild fever, a doctor-on-demand can treat your ailment on the spot. However, if your medical care requires long-term attention where follow-up visits, regularly scheduled maintenance, or post-op visits are inevitable. Your physician will require an initial face-to-face visit as well as access to your complete medical history before treatment via telemedicine is conducted.
Myth #6: Telemedicine technology cannot provide the same intimate relationship as an in-person office visit.
Truth: Once an equal partnership in care is created and the relationship-centered care model is established within your team, then you can rest assured that everyone on your at-home care team and all your health professionals will be on the same page.
Myth #7: Clinicians cannot conduct a thorough examination through telemedicine.
Truth: In the early days, telemedicine was primarily a phone-based interaction between a patient and a provider. As smartphone technology has evolved, so has virtual medicine. The providers' ability to conduct real-time video visits has created a far more intimate interaction between the patient and the provider. Virtual visits stand a greater risk of being incomplete as physicians are unable to access key vitals such as temperature, blood pressure, or body scan images. However, this obstacle is changing—and fast. As home–device makers are creating incredible, yet very reasonably priced technologies, where a physician will have access to the desired health information, and the patient can utilize the device in their home. Patients who complete the pre-work before the remote visit enhances the provider's ability to examine, assess, and treat. This enables the physicians to perform more robust consultations and more thorough evaluations and expand the healthcare services that can be delivered at home.
Myth #8: Telemedicine is complicated, confusing, and overwhelming to learn.
Truth: For most adults where mobility is not an issue, going to an in-person office visit is not a challenge. But for people who are disabled, extremely sick, bedridden, or suffering from some other illness that doesn't allow them to move freely, a telemedicine visit might be their only option for a high-quality consultation.
Review
This article on telemedicine myths and truths was brought to you today by Patient Better to have an more in-depth understanding of:
1. What is telemedicine and how does it work?
Telemedicine refers to the remote diagnosis and treatment of patients by means of telecommunications technology. It allows the clinician to contact, treat, advise, remind, educate, and monitor long-distance patients.
2. Which is an example of telemedicine?
Where the telemedicine provider and patient have means to communicate visual and sounds at long distance by means of the internet.

3. What is telemedicine? / What is telemedicine in healthcare?
Simply put, "tele" means at a distance, medicine is an interchangeable changeable word with medical, and healthcare is a broad word used to describe the status of an individual at any given point of time and the care in which they receive.
4. How do I set up telemedicine?
You can create a virtual medical appointment from anywhere you have internet access, video and audio conferencing capabilities, and the three essential health recording devices. If you want to learn the ins-and-outs of setting up a remote visit, please see our post on creating a virtual home.
Buy our latest book: The Remote Companion for Self-Health Managemen
About Patient Better
Patient Better is a 501(c)(3) nonprofit organization developed to help offset some of the new challenges facing patients and their family-member caregivers in navigating throughout the healthcare industry. Our mission is to provide affordable health management knowledge and equip people with unique, lifelong skills to independently manage care efficiently and effectively.
If you want to learn more about how you can become an expert health advocate (for in-person and virtual medical appointments) visit patientbetter.com.
Video coming soon
Interested in watching our upcoming video or reading next article? Be the first to get notified when they come out. Subscribe to our newsletter.
Login or register to your free Patient Better account
This article uncovers the myths and truths about telemedicine that will bring out your best health advocacy skills possible.
Read More »