Health Research Masterclass- Conduct Like an Expert, Get the Professional Analysis You Deserve
By being able to conduct health research is a skill of empowerment that allows you to tackle a problem or present a question to your health professional through a more informed lens. However, conducting health research can be tricky business if you're going at it "green." If you're unorganized and present your health research in the treatment room on verbal recollection alone, chances are you'll never receive a professional answer about your query. That's why independent or informal health research conducted by patients is rarely taken seriously by healthcare professionals.
It's common knowledge that people who are untrained to detect the creator's motivation can't distinguish bad from good information and tend to take what they read at face value. The adage "Google isn't where you get professional medical advice" isn't just a saying; it's a real problem.
After reading this article, you'll know how to properly conduct independent health research and organize and conclude your findings in a presentation that will command your reader's attention.
By knowing how to conduct health research properly, you can communicate your concerns and pinpoint the specific dynamics of the concern in a fraction of a time that it would take without. Furthermore, you'll get your clinician to take your health research seriously because you've provided a road map for a specific and relevant health research topic. Without proper training, it's easy to get confused or fall prey to dodgy websites. You should know how to focus on relevant yet credible sources.
At Patient Better, our goal is to help you conduct effective independent health research that will show your provider that you aren't just a patient; rather, you're an informed health advocate. If you haven't done so already, please review our previous articles (medical jargon & terminology, abbreviations, and notes) on building your health literacy skills to build a solid foundation of health knowledge, build confidence, and make the most out of your health research.
Here's a few simple tips you can use to weed out unreliable web sources from your search:
Health Research Rule #1 – Identify web sources
The first step in any research is finding credible web sources. However, how do you know what a web source (be it a website or an online database) is trying to achieve? Are they trying to sell you something? Compel you to act? Motivate you to see things their way?
Discern whether the website is a branch of the government (.gov), a university (.edu), a health organization (.org), a hospital, or a business (.com). Focus on the quality of information and err on the side of caution with overly exaggerated claims.
Check whether there's an editorial authority
Any trustworthy website will have a board or authority that reviews the content. Such reviews ensure that information on the site is reliable. If there's misinformation on the site, the issue can be reported to the editorial authority. To determine whether the information is biased, 1) look for the website's purpose and if the information persuades, endorses, or sells a product, 2) uses negative language, or 3) has a one-sided view on a controversial issue.
Ensure there's a review process before publication
Whether or not there's an editorial authority, all websites must have a proper reviewing process. You'll know whether there's a review process if the web source:
Tells you the source of its information (i.e., provides references)
Provides evidence of its claims (e.g., references to first-hand clinical studies)
Has no typos or grammatical errors
Has no unbelievable claims
Has an objective tone and language
States it has been reviewed by so-and-so expert/organization
All these factors indicate that the web content has been curated before publication.
Ensure there's no sponsor bias
Most websites rely on sponsorship deals to fund their operations. With healthcare websites, there's a strong chance of sponsor bias if proper guidelines aren't followed.
Ethical web sources will avoid sponsor bias by:
Disclosing their sponsorship deals to readers
Separating marketing from their content/information
Providing balanced/honest reviews of endorsed medical products/services
Think twice if the authors want your information
Many healthcare websites will conduct online surveys, quick tests, or sign-in requirements for their information. For this purpose, they'll ask you to fill out a quick form in exchange for scouring their site.
To ensure that your information isn't misused, check whether the website:
Is a secure/private connection
Has disclosed what it intends to do with the information
Has not asked for sensitive details, such as your address, bank info, or social security number
Is not asking for a fee
Health Research Rule #2 – Always check these reliable websites first
Before trying other websites, it's better to save time and scour websites that you already know are credible and trustworthy sources. If these websites don't have your required information, you can follow the first step and evaluate other sources like The Agency for Health Care Research and Quality or The National Center for Health Research.
Here are the eight main authorities of health-related information on the Web:
Some health news websites have also gained lots of credibility throughout the years, but may garner a mixed reaction from licensed professionals. When approaching your professional using these resources, we suggest that you already have an established relationship with your provider:
Health Research Rule #3 – Compile relevant information
Once you've done your healthcare research, you'll need to organize it for a professional presentation. After all, your research would go unnoticed if you showed up to your medical appointment with dozens of unorganized printouts. You'll either overwhelm your clinician or fail to discuss your points within the time frame of your appointment.
Depending on how in-depth your research is, out of all the sources you've examined, only some or even one reference may be relevant. Moreover, out of the relevant sources, only some sections/parts may apply to your concern, so use research index cards to keep track and organize your findings.
Click here to download your free Health Research Index Cards
Please see the following guide on how to properly present your research to professionals.
To make this process easier, you should make index cards.
This format should be followed:
Source Type: (Specify whether you got the information from the Internet, print, radio, or television)
Source Name: (Mention the name of the website/book/magazine/radio show/television show)
Company/Organization Name: (State who is the source's manufacturer or parent organization)
Author's Profile: (Specify who wrote/edited the source, including their name, credentials, experience, and other publications relevant to your field of research)
Date of publication and review: (Focus mostly on recent studies, (i.e., studies within the last decade or so, as you don't want outdated information)
With your research index cards, you can discuss the highlights and what you want to accomplish with your healthcare provider during your appointment, which will require minimal time. However, if your requirement is to have your professional read your research, it's better to email them or bring them a physical copy of your research index cards for your professional to read later.
About Patient Better
Patient Better is a 501(c)(3) nonprofit organization developed to help offset some of the new challenges facing patients and their family-member caregivers in navigating throughout the healthcare industry. Our mission is to provide affordable health management knowledge and equip people with unique, lifelong skills to independently manage care efficiently and effectively.
If you want to learn more about how you can become an expert health advocate (for in-person and virtual medical appointments) visit patientbetter.com.
Video coming soon
To get notified when our in-depth video comes out on how to conduct health research that will command your provider's attention subscribe to our newsletter.
Login or signup to your free Patient Better account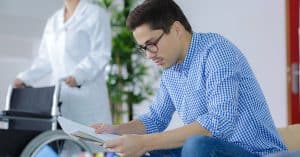 Add Your Heading Text Here Lorem ipsum dolor sit amet, consectetur adipiscing elit. Ut elit tellus, luctus nec ullamcorper mattis,
Read More »