Patient Better's Powerful Health Management Tools
Your Guide to explore Patient Better's health management tools to take governing care to the next level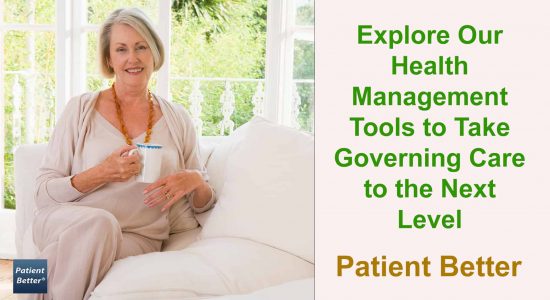 The following templates, forms, and worksheets aka health management tools are liaisons to help you take health managing care to the next level. Today, individuals with medical conditions (and the folks who care for them) are often required to perform complex in-home medical care. And clinicians are looking to their patients to complete as well as record their at-home care more thoroughly. With that being said, it's more critical than ever for people to learn health management. Patient Better created these lessons so that patients, caregivers, parents, and guardians on the entire at-home care team are able to better manage more sophisticated care.
Why these health management tools are important
Enhance Participation in Treatment: To have fewer complications, lessen emergency room visits, prepare for an information-driven medical appointment, and reduce unforeseen costs.

Practice Responsible Medical Utilization: Prepare for medical appointments, reduce unnecessary phone calls and office visits, and effectively take advantage of offered services, treatment, resources.

Improve Risk Management: Have a realistic calculation of services needed for proper treatment and recovery and informed decision making.

Effectively Self-Manage Care Records: Become an efficient liaison in the transfer of information from one doctor's office to the next.
The Benefits for You to Take Health Management to the Next Level...
From The Patient Better Workbook
The following documents are part of our academy's core learning that helps people as well as their at-home caregivers how to self-manage care as a care team. These Patient Better Workbook is a collection of our most popular worksheets to further assist people in developing their analytical skills within the world of medicine. This workbook forms supplies people with additional capabilities to perform higher-level administrative tasks that co-exist with today's health-related circumstances. 
Additional Health Management Tools
The following templates are designed to help those who have unique demands in health management and are created in a continued learning effort and will continuously be updated as our society, community and healthcare practices and processes evolve.